The power of the Cross to impact peoples lives has always amazed me! You can't encounter the Cross and it's message of love and remain the same. I believe that the memory it etches in your mind, will remain with you for a life time. Today, we saw so many touched by the Cross. We saw children's smiles as they got stickers, they got to touch the cross, follow the Cross and were excited to hear about the God that loves them. Also families that rejoiced because the Cross came to their house.
Today as we made our way to the crossroads in the center of the village, children were getting out of school and were everywhere! As soon as we started handing out stickers, children came running! Only few understood as I shared about God's love but the smiles on their faces revealed the heart connection!
They followed us everywhere as we walked the streets of their village, up and down hills, along a dusty road to a big lighthouse on a hill, and back again. We all just smiled and laughed together as we tried to speak each others language. One time we stopped to talk and share with this huge family, only to find that more kids were following us afterward. It was a hoot! The father/grandfather of the family was so excited that the Cross had come by that he had all his children/grandchildren/nieces and nephews that lived there, come out to see the cross. We shared with them what we were doing and where the cross had been, which he interpreted and shared with his family. It was obvious that he had a great love for the Lord. After we had prayer with them, he said, "let's make the picture" as he pointed to us and his family.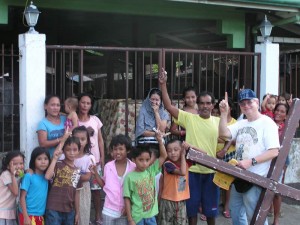 What a sweet time of fellowship. We then shouldered the cross and headed to the light house that was at the end of this long dirt road with our new found entourage of the Lord's disciples! When we got to the lighthouse, we stood the Cross straight up and shot a picture of the children, the Cross and the lighthouse.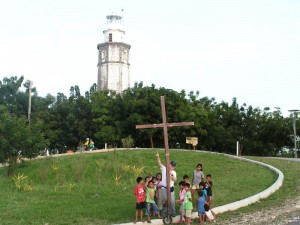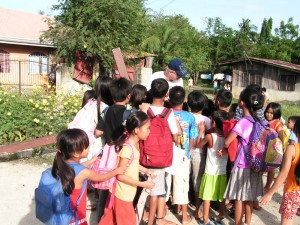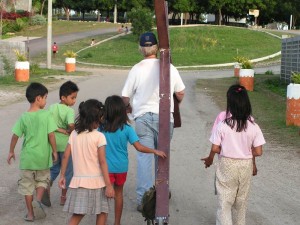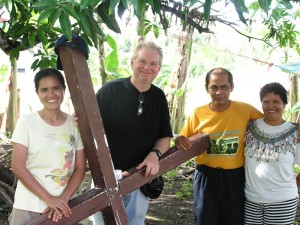 The next day, we decided to go the opposite way. We enjoyed stopping by each little market stand, mechanic shop and house, distributing the stickers and tracks that everyone so gratefully received. As we stopped in the shade of a banana tree, to get a break from the 100+/35+c degree heat, we noticed a family across the road waving us over. It was the start of a huge blessing! We carried the cross down their driveway to their little home. The man that greeted us introduced himself as Pastor Jesse and then introduced his wife and sister in law to us. Their smiles were so huge and infectious, you could just see Jesus all over them! As we sat there on a palm tree log, we shared coke, crackers and Christ!
The love and joy we shared in The Lord was so deep and real, this was one of those life meetings we will never forget! Their richness in Christ far overshadowed the poverty in which they lived as a struggling pastoral family in a very small village. Their church building was under a thatched roof behind their home, open air with no walls. I believe the Love is what held it up! Before we left, one of the most touching things that has "ever" happened to me was that this man of God, from his poverty, pushed into my hand a one thousand peso note (about $22,US) and said, "I want to sow into your ministry"! Well, the tears started to flow as Doreen and I struggled with receiving this generous gift from such a generous heart. It reminded us both of the widows mite. He would not take no for an answer as he assured us that the Lord would surely provide as they gave with faith from their poverty! No words can describe the love and faithfulness that we had witnessed in that moment! This passage immediately came to mind…(II Corin 8:2-4). "How that in a great trial of affliction the abundance of their joy and their deep poverty abounded unto the riches of their liberality. For to their power, I bear witness, yea, and beyond their power they were willing of themselves, begging us with much entreaty that we would receive the gift, and take upon us the fellowship of the ministering to the saints."
We are asking everyone who reads this to please pray for Pastor Jesse and his family and their health and work, in their little corner of God's vineyard!