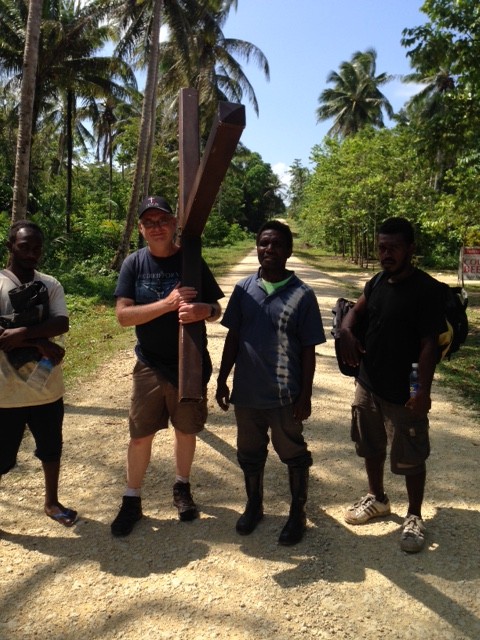 The morning after the pig roast, I was up and ready to start the Long trek down the Mountain by 6:00 AM. Since so many had gathered outside my hut to say bye and ask prayer for different things, we were much later getting away. (Roberts dad was among them. See earlier post) One family that was building a new house, came and ask me to come to their home to do a prayer of dedication. I was so honored! The family and I gathered at the house held hand and dedicated their home to Gods service. I then wapped one of my Jesus sticker over the door. They love that. Then we climbed down the ladder and headed to the gathering place In the the center of the village.
As we gathered for prayer I gave thanks to The Father for allowing me this incredible time together with them on Kwaio Mountain!!! I felt my heart ache with the Love that God gave me for this people! I soooo did not want to leave. It had been an amazing time there. With still so much need unmet yet….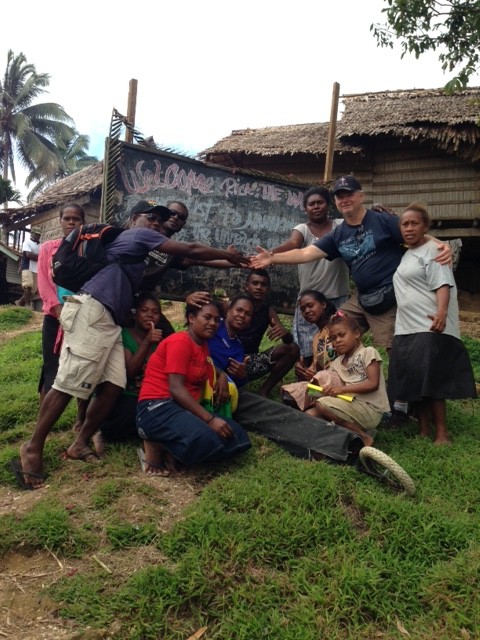 Denny, the Chief and others came to see me off. On our way out of the village a few of us stopped at the welcome sign they had for me and got a quick picture.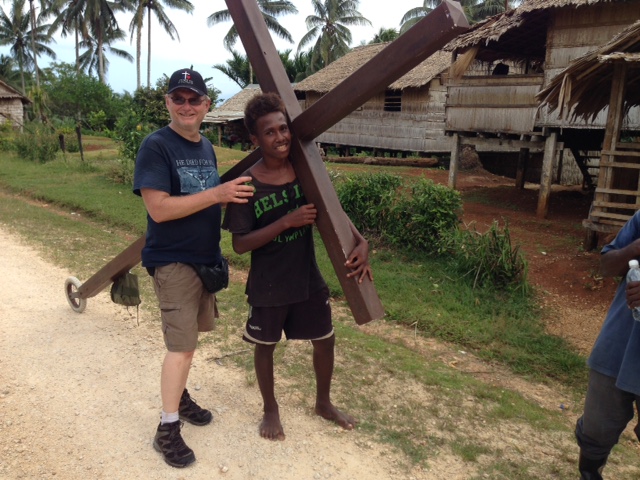 Then with one last look back, I yielded them over in my heart to Gods care and we started that unbelievable climb back down the mountain.
This is a steep climb. Through thick rain forest over slippery boulders and roots. I fell twice going back down. I would have fallen more if it had not been for Jeramy, a young man that Robert had assigned me as my guide. He would steady me at times to his own peril. He also is a young preacher and all the way down the mountain he asked a million questions about the Bible. Even though I was exhausted and winded my heart soared with his enthusiasm and hunger!!! We had to stop many times to rest but the questions never did. 😊👍🏽.
Almost 3 hours later we finally arrived at the river. I waded in, shoes and all and washed up. Bloody legs and everything. The old white guy was tuckered!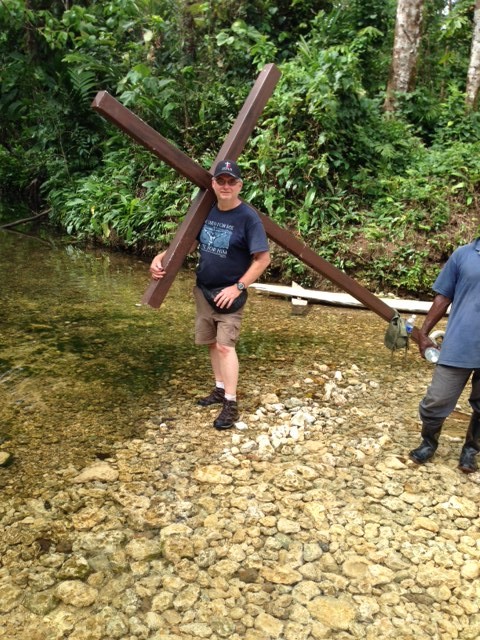 As we made our way back along the river,  through the little villages, we found out there had been an earthquake somewhere and there was a chance of a tsunami. So everyone was on the alert. In spite of the threat our boat from World Vision had made its way up the river to meet us. Now we started the hour long boat ride back across the bay to meet the truck for the 3 hour drive back to the other side of the island.
We docked to find no truck waiting. What was there was 3 men who heard I was coming in this morning with the Cross so they had come from their village to get me and bring me back there to preach.  Though my legs were still weak and wobbly from the long climb down the mountain, I shouldered the Cross and started the 3 and a half K walk to their village. We crossed rivers and stopped and shared at huts all along the way. We would share the gospel then pray with them for salvation, healing or whatever the need the people had and then move on.
When we got to the village, word went out and here they came from every direction.  I preached about the Cross and and the Love Jesus has for all man kind. I then gave an opportunity for people to respond and several prayed to receive Christ. Plus I prayed with and ministered to more people about other needs.Though I was exhausted, I was rejoicing to see so many giving their lives to Jesus!
Our truck finally found us while I was preaching. But the driver was in a hurry to start back so we didn't get to eat what they had prepared for us. The reason he didn't want to wait is,  it would get dark before we would get to Alki where we were to spend the night and the road was treacherous.  Bridges over rivers that were just narrow boards. This day had been like the Apostle Paul said, in 2Cor. 11:21-33. "In journeyings often, in perils of waters,… In perils in the city, in perils in the wilderness, in perils in the sea… In weariness and painfulness… In hunger and thirst…. Etc., but when people get saved it's worth every step, it's worth every pain, it's worth all the dangers and struggles. I would do it all again in a heart beat.
In all my life I have never seen a hunger, an openness, like I found on Kwaio Mountain. A tribe of 30,000 people ready to surrender to the Lord. By Gods grace this preacher is going back. But hopefully not alone and not empty handed. In my next write up I will tell about the supplies I have already bought and sent up and the impact it has had. So stay tuned….. Pray about going back with me or holding the Rope for us in a real tangible way, as we go. You can send  school supplies, medical supplies, etc. I want to haul at least one small wind generator and battery up there. If you know anything about one let me know. Let me know if you feel the Lord nudging you in anyway to help.  It will change your life forever. God Bless you and thank you each one who prayed. Also for those who have given to help keep the Cross on the roadsides of the world, many have heard and received because you sacrificed. Someday they will thank you themselves but till then I say thank you!!!! Till next time.
Keep looking up He's coming.
Please feel free to forward this on to others you know who would like to follow us or help.