Carrying the Cross has always been my joy. The encounters with people are one of the things that feed me. Meeting them and hearing their stories, some brings joy and some brings hurt.  Some events are sooo exciting, as the Lord surprises me, the way He shows up and what He does! Some are just plain fun!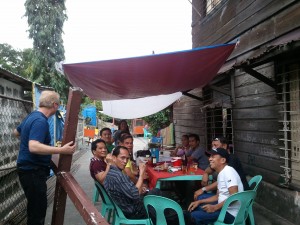 Like One of the days when I was walking down the road, I passed a fruit and vegetable stand around 100 meters long. As I made my way past the stands, I handed out stickers and tracks to the women that were selling there. They so gratefully received them. As I got to the last booth, the lady there thanked me and asked me what I was doing, so I stopped and began to share with her my story and why Jesus died on the Cross. I looked back and saw that all these other women had followed me with their tracks and stickers in hand, so as they gathered I just preached! I shared with all of them, the message of God's love, while every so often, the lady that could understand English, would stop me and translate to the others. Those are the little encounters that are so exciting for me,you never know when they will happen. Those you can't plan! It's just Jesus!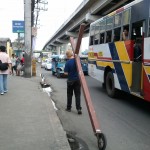 The same day, to show you the ups and downs of emotions that I experience with the Cross, I was walking by a hut with a pool table in it, and I handed a track to, what turned out to be another Christian brother, I stopped and had fellowship with him about the things of Christ. While talking, a man came out from the "pool hall", that we had given a track to the other day, and he wanted to talk. I went through the message of the gospel with him, trying to help him understand the love God has for him but he just wanted to argue which I do not do. Every time I have an encounter like this, my heart just breaks, because we, as Christians, know the fullness of life that Jesus gives and in reality, that is what everyone is looking for, meaning in life. But some, just refuse to see and like the old adage "there is none so blind as he who will not see". So you love them and just move on.

The same day, less than an hour later. A news paper photographer spotted me with the Cross giving out gospel tracts to everything passing me. He stop his car in the middle of this crazy traffic, jumped out, followed me taking pictures, leaving his car where it was. Since it was rush hour, the cars, jeepneies, and motor bikes of various descriptions were passing me slowly. Which was great, because it allowed me to give them the tracts I hand out. Well he thought this was great. So he followed me for quite a while shooting pictures and trying to get "the story"! We had a great time, me with the Cross and him chasing me with this huge camera. He is a believer and turns out Christians here know him. Also getting the clear gospel message in the paper from an interview is always good!!