From my heart-Feb. 24, 2012…
Praise the Lord! As I write this, we are sailing between the islands in the Philippines… the last several days have been pure JOY!!  Though the sights, sounds and smells are all too familiar to me since I have been in so many places in this world, to Doreen, it is a first to a poorer country. To me it is a reminder that we are back on the front lines, so in that I actually have to say, I enjoy them, for I have so long been hungering with all my heart to get back to the mission field where I've been called! These multitudes of sights, sounds and smells help me to embrace the variety of God's world and his love for all mankind! Whether it is the stench of the dumps in Nicaragua or the variety of smells of flowers in Fiji, Holland or New Zeland. I welcome them all because when I smell them, I know I am in the trenches for Jesus and this great big world NEEDS HIM!!
As we sit here looking out the big window in our cabin watching the islands and mountains go by, we do not know what awaits us ahead. All we know is that it is the island of Cebu! I look forward to carrying the Cross there. It was received well in Manila. Now we are taking it to another island. It is warmer there they say, and more rural. No matter, we go in His love! My prayer is that the Lord will allow me to feel a little of His heart for this people. He has always done that before and that is exactly why carrying the Cross and serving Him has the richness for me that it does. For life is not worth living till we look beyond ourselves and live for what's important to HIM!!
Tonight we just enjoyed a quiet evening on board the ship. Dinner together was beautiful! Later, I walked out on deck for quiet time and to pray.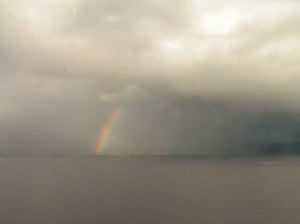 Sat. Feb.25…
Well, we will soon be docking in Cebu. Only the Lord knows what we will find there. We are ready, Jesus is with us! As we sail in, a beautiful rainbow welcomes us. We can see the storm clouds moving out. The sun is now up. We will dock at pier 5. We just received a text and we will have friends (we have not met), meet us at the dock. P.T.L!!!