The last several days have been amazing! I'm  getting a cramp in my head trying to think of how to condense it so I'm going to give you the readers digest version.
We set out Sunday with our friends, Ronald and Charissa, to check out the north coast of Cebu island. LILO-an is a bit more rural than where we've been but we felt a spiritual darkness there immediately. The first hotel that we came to was on the beach but the rooms were very small and not very clean and we didn't want to have Ronald and Charissa driving us around all day so we just decided to move there the next morning.  I was proud of Doreen for even being open to it! The worst part about it was, it was Kereoke beach, with five machines all within 100 feet of each other, and much of the time it was dueling Kereoke!! The interesting thing was that on Sunday when we went to check it out, a Jewish man, when he heard we were missionaries, came right to me and said, "I want to talk with you!" Then the hotel owner came over and began asking us many questions about what we believed, so "I WAS EXCITED", I knew the fish were biting!!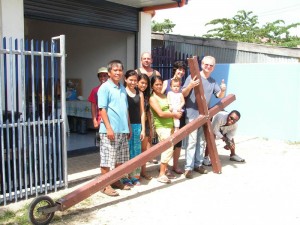 After our first night of "dueling Kereoke", come 8:00 the next morning, the dueling grueling Kereoke began again! I told Doreen that I would not put her ears through that, so we decided to head out looking for another hotel that morning. Though even if we found a place, we knew that we would go back there to find the Jewish man and perhaps the owner, to walk through the doors God had clearly opened for us to share the gospel of Jesus with them.
After our, not so quiet time and coffee, we walked out the tree lined drive way and turned right. We walked maybe 100 yards up the road, when Doreen spotted some people sitting inside, what looked like a roadside bar/hut/cantina and said lets go ask them if they know of a place. The owners were suggesting all the resorts further north, when the one man sitting there at the bar, named Uwe (a German), said, "I know a place you can get a nice room, clean, air-con, wi-fi,  and quiet for only 800 pesos. That was less than what we were paying for Kereoke beach. So, after we visited a bit, Uwe asked if we would like him to bring us there to see it. I said yes that would be fine, since I had a peace about it, so I tossed Doreen in the back of the little two seater truck and off we went zig zagging thru traffic and down some dusty potholed roads. I was relieved to see that she was still in one piece when we got there. What a trooper! She's a real missionary!
Well, when we got there, turned out it was brand new and Uwe owned it. He was a carpenter so he decided to build a hotel there with a little store front and have his in-laws run it while he lives most of the year in Germany with his Filipino wife. It was still in construction stage though the rooms were finished and very nice. What an incredible blessing it had turned out to be! We knew God had led us right to where he wanted us!
So for the next several days, that became our base of operation. We were able to blitz this entire little village with the gospel tracks and stickers as we carried the cross! Some of the real special things turned out to be the way they fed and took care of us. Though he had no idea when he brought us there that we were missionaries and that I carried a 12 foot cross, Uwe just seemed to roll with it. One of the other special things was that when Uwe saw the guitar, I told him that Doreen was a gospel singer but she had also been a country singer for some years! When he heard, "country music" his eyes lit up, then I mentioned that she had opened for the Belamy brothers and he was even more excited because he had enjoyed them when they toured in Germany. After that, the die was cast, Doreen had to do a concert, he would not take no for an answer. So one night, Doreen literally sang for our supper! So much more could be said but it is already beyond the readers digest version! I'll just say that we all had tears in our eyes when we left and our hearts were knit together! I believe it was the first time he had ever heard the clear gospel message. Doreen shared her testimony, as Uwe videoed it and she sang her song, "Because I Love You".(Hisongs.com).
Many seeds were planted during our stay and we look forward to seeing each other again, here, there or in the air, as they say! Please keep Uwe in your prayers!  Before we left, he gave us his number in Germany and invited us to come visit them.