We got up early to get ready for church. Wow! How do I write about today?! We were able to meet and fellowship with a delightful group of believers, a connection only God could make. This little church group was a connection of a friend, of a friend, of a friend of Pastor Jonathon from Manila! (little did we know that this divine appointment would be the catalyst of all the ministry that we are to do here).God knit our hearts together from the very start!
Pastor Ronald and his wife Charissa are such a beautiful inspiration and testimony of a mission couple, living on faith! They show God's love so beautifully through their self sacrifice and dedication. They reached out and embraced Doreen and I, as total strangers because our hearts beat alike in desiring to get the gospel out to the multitudes of people here on Cebu island! (we will speak more about their ministry later and how you can support their work and the difference they're making in lives)
Ronald and Charissa have been building a work here that was an amazing thing for Doreen and I to see! As we watched a self-taught 13 yr old, play keyboard and  beautifully lead the worship team of other young people, all their hearts shining the love of Jesus! We were so honored because, as best they could, they did the service in English just for us! The day of fellowship that we spent will linger in our minds for a long time. Then late that afternoon they took us to their home for the youth fellowship service in their front yard. Under the shade of those trees, we listened to the young people share their stories and testimonies of how Jesus had changed their lives. The warm breeze blew through the yard and as the sun set, Doreen sang and I spoke. We were reminded once again that we were on the mission field!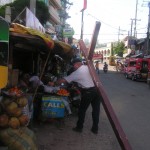 -Ronald and Charissa helped arrange a room at "the baptist house mission compound", which has proved to be a real blessing to us! One day after settling in there, we took the Cross out into the market place not far away. We handed out thousands of tracks and stickers which again, we're so eagerly received which Doreen was amazed to see because it's so different from America! As always here, it is HOT, HOT, HOT!!! But because of the hunger of the people, we were glad to keep going. We must tell you about this one young man around 19, that we gave a track to, who goes by the name "JR." He works in this little tin shed on the side of the road which held an old sowing machine in it that he must use somehow to make his living. When we gave him the stickers and track, and shared with him that Jesus loved him, we could see that he was so grateful as the biggest smile you ever saw came across his face! It was so beautiful to watch him hanging on every word that I shared about the love of God. Though his friends came over, it did not even divert his attention as he listened. The last thing he told us was, "I will pray that prayer" as he pointed to the track!! Every time Doreen thinks of him, she remembers the insatiable hunger and hope she saw in his eyes, which still brings tears to her eyes!!