Today we headed north. We turned left out of the driveway, went maybe 200 yards and came upon a family sitting on a bench. We stopped to talk and share when I noticed the boy at the end, maybe 12yrs old, who's eye was swollen shut. It looked quite painful. I asked what happened and he said a bee stung him. I felt nudged by the Lord to pray for him so I asked his father if it was ok if I prayed for him. He seemed a bit surprised at the request but said it was ok. So I laid hands on the boy and just asked Jesus to heal him and take the pain away. We then picked up the cross and headed on. We gave out tracts and preached to those we met as we moved on down the road. We came to another bus shed where a bunch of men were gathered (seems to be a common hangout), greeted them, shared what I was doing and the meaning and finished work of the cross. They received it very graciously and asked questions. We prayed with them and then took a picture.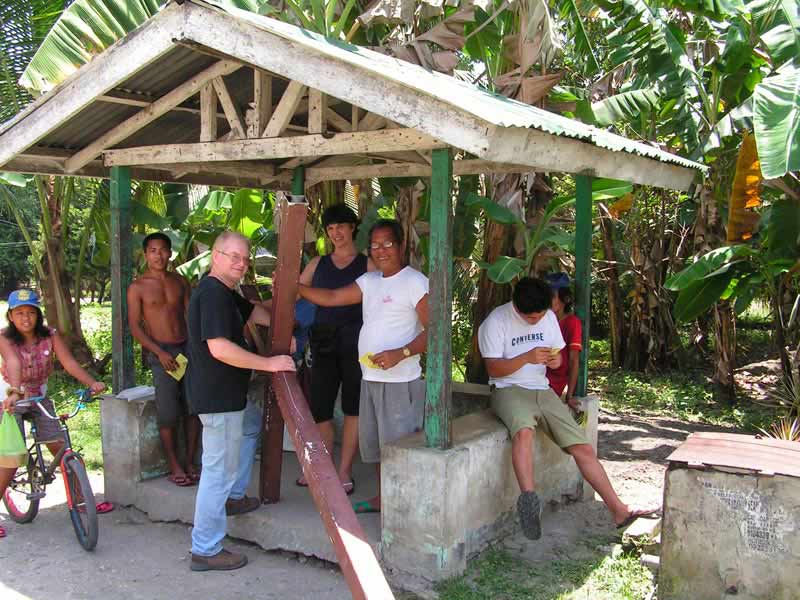 Doreen, Joel and I held up pretty good considering the heat! We moved on, stopping to take a break in the shade part way up the next long hill. Later, as we were entering the next village, we met this young man alongside the road named Russell. We stopped to share the gospel with him and, as the bible says, "he received it with all readiness of mind." It was a beautiful time of sharing, as he looked into our eyes with a continued longing to hear more. He prayed, willingly putting his faith and trust in Jesus' death for him on the cross. We gave him a copy of each of the different tracts that we had and asked him if he had a bible which he said that he did have. We told him to start reading it at the gospel of John and then head toward the back of the bible through to Revelation. Joel invited him to the Shekinah fellowship church in Dalaguete. Pray for Russell that he will be protected from the evil one, pursue reading his bible and find fellowship in a local church.
Next, we finally made it to the next town where there was a big school and children everywhere at recess. So naturally, we had to give out stickers and in no time we had given out hundreds of stickers, even the teachers wanted some. Kids kept rushing over to see what was happening, it was like a feeding frenzy! They kept asking for more as they read about Jesus' love for them.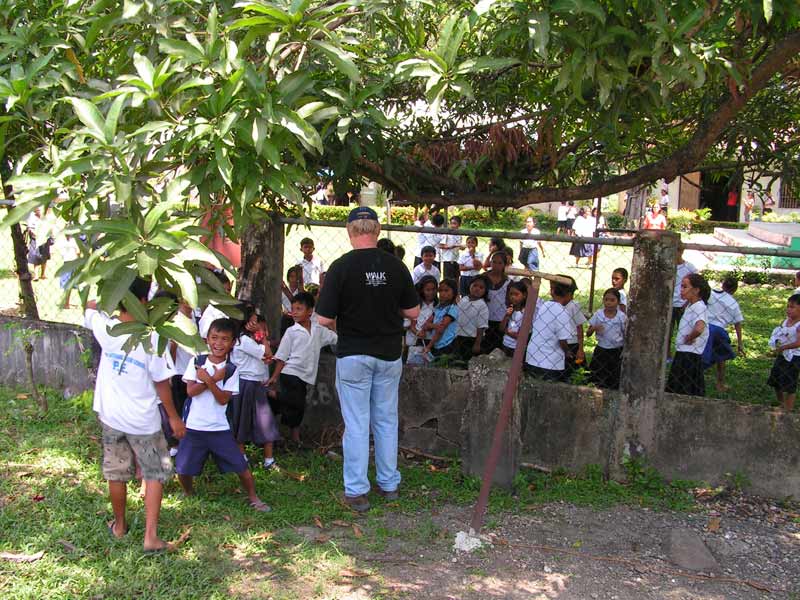 After we got back, we jumped into a three wheeler with Alma, Lisa and Joel to do some much needed shopping. Along with the 100 lb bag of rice, we told Alma to get chicken for dinner. She only was going to get a few little pieces, as it is too expensive for them to usually buy chicken, but I made her get the whole chicken! She smiled and laughed in her shy Filipino way and graciously received. (As we had shared on one of the earlier blogs, we were able to bless the girls with food and other necessities, also because of your giving!)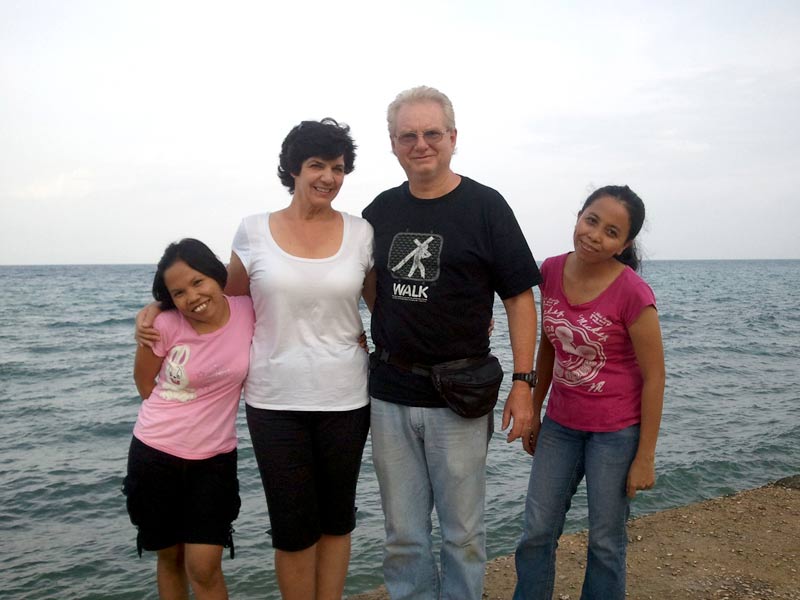 On our way back from the market, we drove past Tiofila's house and saw her outside walking with a walker! We rejoiced to see that she was able to put weight on her knee since she could not, just the day before!! Thank you Jesus!!
Doreen and I ended our day with a cold water bucket bath and then it was off to bed. As we laid there, we gave thanks to the Lord for a wonderful day and for the privilege of serving Him in the Philippines!!